The Gender Equality Champions Lab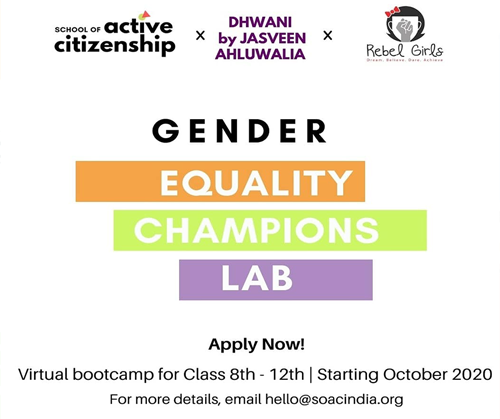 The Gender Equality Champions Lab has been created with the vision of engaging with youth leaders and champions of equality, committed to the elimination of all forms of discrimination and violence against women and girls; the empowerment of women; and the achievement of equality between women and men as partners.This high impact global program is designed for young leaders, both girls and boys, to gain a better understanding of gender through dedicated interactive sessions while also gaining practical experience in advocacy, project implementation & fundraising through fieldwork.
Through this weekend course, students will be nurtured to become active global citizens, enabling them to learn creative problem solving, critical thinking, communication, and consensus-building skills. They will also be empowered to become effective leaders who can influence and impact change.
Mentoring partners include Rebel Girls, YP Foundation, Ketto & GirlUp India (UN Foundation)